Muracon 2018- Comprehensive List of Speakers and Presentations Pt. 2
"It's not about what we make, it's about what we make happen."
     – Park Howell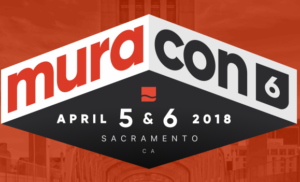 After the first day, no one seemed tired!
Workshop: Intro to Docker & Containers by Bret Fisher
Day two of the conference started strong. Bret Fisher gave a great presentation about Docker.
This fast-paced hands-on workshop took you from Docker 101 to an understanding of how to use Docker Compose for easy local Mura development.  Bret talked about some basic "daily docker commands" for working with software on your machine. Very informative "what, why, and how" on Docker for development while getting your hands dirty running and managing containers.
The complete presentation link is here
Workshop: How to Clarify Your Story to Amplify Your Impact and Simplify Your Life by Park Howell
The second workshop by Park Howell was about:
Clarify your personal brand story to grow your influence, or professional brand story to grow your business
Dial-in the why you do what you do as your personal passions drive your professional pursuits
Create a powerful value proposition to make your offering timely, relevant and irresistible
The complete presentation link is still not available. We will keep you updated.
How Adobe ColdFusion Continues to Deliver Tools for Performance, Scalability, and Security by Elishia Dvorak
As always, interesting to hear what Elishia Dvorak talks about.
Elishia Dvorak is the Technical Marketing Manager at Adobe supporting both eLearning and ColdFusion product lines. In that role she provides sales & marketing support, technical guidance, education & training for those products and integrated technologies. She has a long history of assisting customers with server support, consulting and training with over 10 years performing enterprise dedicated support and Technical Account Management for the largest Adobe customer architectures. Prior to her current role, she spent time as an Adobe Reseller and Solution Provider specializing in ColdFusion solutions.
Originally published at teratech.com on May 2, 2018.
Read the full article here